Learn from the foodservice equipment leader in development & design


This site is dedicated for educational purposes to help better understand how foodservice equipment is maintained, reconditioned, rebuilt, and remanufactured.
RSR Institute of Technology & Design is a leader in the field of foodservice equipment development. A high amount of technology used in today's newest inventions come out of our test facility.
With the help of the RSR Institute of Technology & Design website and our exclusive replacement motors, custom knife bearing assemblies, and many more design improvements, you will become the expert of your machine. Let our experts help make an expert out of you!
Remanufactured machines can cost much less than buying new. See what our experts did with these old worn out slicing machines, dough mixers, motors, and parts. You'll be astonished!
Can you guess what this "Unusual Machine" is used for?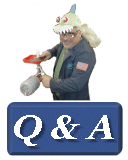 1. What does "reconditioned", "rebuilt" or "remanufactured" mean?
2. How are slicing machine motors made?
3. How are knife bearing & knife bearing assemblies made?
4. How do I clean and maintain my slicing machine?
5. Can I get replacement parts for obsolete machines?
RSR Foodservice Equipment
6574 Delilah Road
Egg Harbor Township, NJ
08234
©2014 All rights reserved.